---
Customize or Create Your Own

Pick an email template, customize and send in minutes!
LinkFusions gives you the consistency you need to setup and run successful email marketing campaigns on autopilot.
Easily customize your emails and newsletters with your logo, colors and branding by picking a ready-to-use template (or creating your own using our intuitive email builder), and setup your first email campaign in minutes - all emails are responsive across all devices!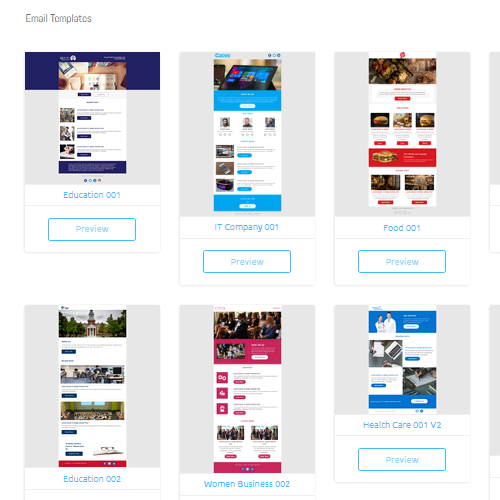 ---
Powerful Email Analytics

See open rates, sent and received emails and more!
Did you know for every $1 you spend in email marketing you can expect an ROI of $32? With an easy-to-use analytics dashboard you can quickly view how many emails were sent and how many were actually opened. This is great for testing email subject lines to see which ones convert better.
You can also split-test multiple campaigns and only keep the ones giving you the best conversions!

---
Go Beyond Email

Email is just the beginning...
LinkFusions enables you to use text messaging, picture messaging, automated voice calling, surveys and more to connect with new leads and follow up with past and current clients.
So, why just stop at email...when you now have the power in your hands to reach out to more customers more quickly using multiple communication channels!
Top Features
---
LinkFusions Email revolutionalizes email marketing for the 21st C
With Linkfusions Email setup a welcome email and follow-up automated emails that go out on autopilot
Upload your custom logo and style each email to your brand
Customize a variety of done-for-you email templates or create your own
Whether you're sending 20 or 200,000 emails, Linkfusions cloud-based email delivery is completely scalable to meet your needs
Industry-leading inbox delivery
...and more!
---
For every $1 you invest in email marketing, you can expect an ROI of $32.
---
This is the whopping number of SMBs that rely on email marketing to get leads, and 80% of these use email to retain leads.
---
You can expect a massive increase in click through rates by this huge percentage by simply using interactive emails with video and GIFs.
But Email Marketing is Just One Way of Connecting With Leads....
And, how do you convert leads to loyal clients...
or remind clients to give you repeat business?
That's where you'll find abundant value in LinkFusions' complete marketing suite!
Total = $500+ monthly
(and the daily headache of using and syncing multiple platforms)